February is Black History Month, a time to reflect on the rich culture and immense contributions of African Americans to our society.
Black/African American families are playing a central role in increasing diversity in ASPIRA's after-school programs. Specifically, nearly 1,399 of our participants identify as Black/African American. Whereas 15 years ago Black/African American students comprised about 28% of our enrollment, today that figure is more than 36% and growing, and we are a better community for it.
Many ASPIRA after-school programs took the time not only to study and appreciate Black History this month, but also to celebrate it.
Here are some ways ASPIRA celebrated Black History Month throughout our programs: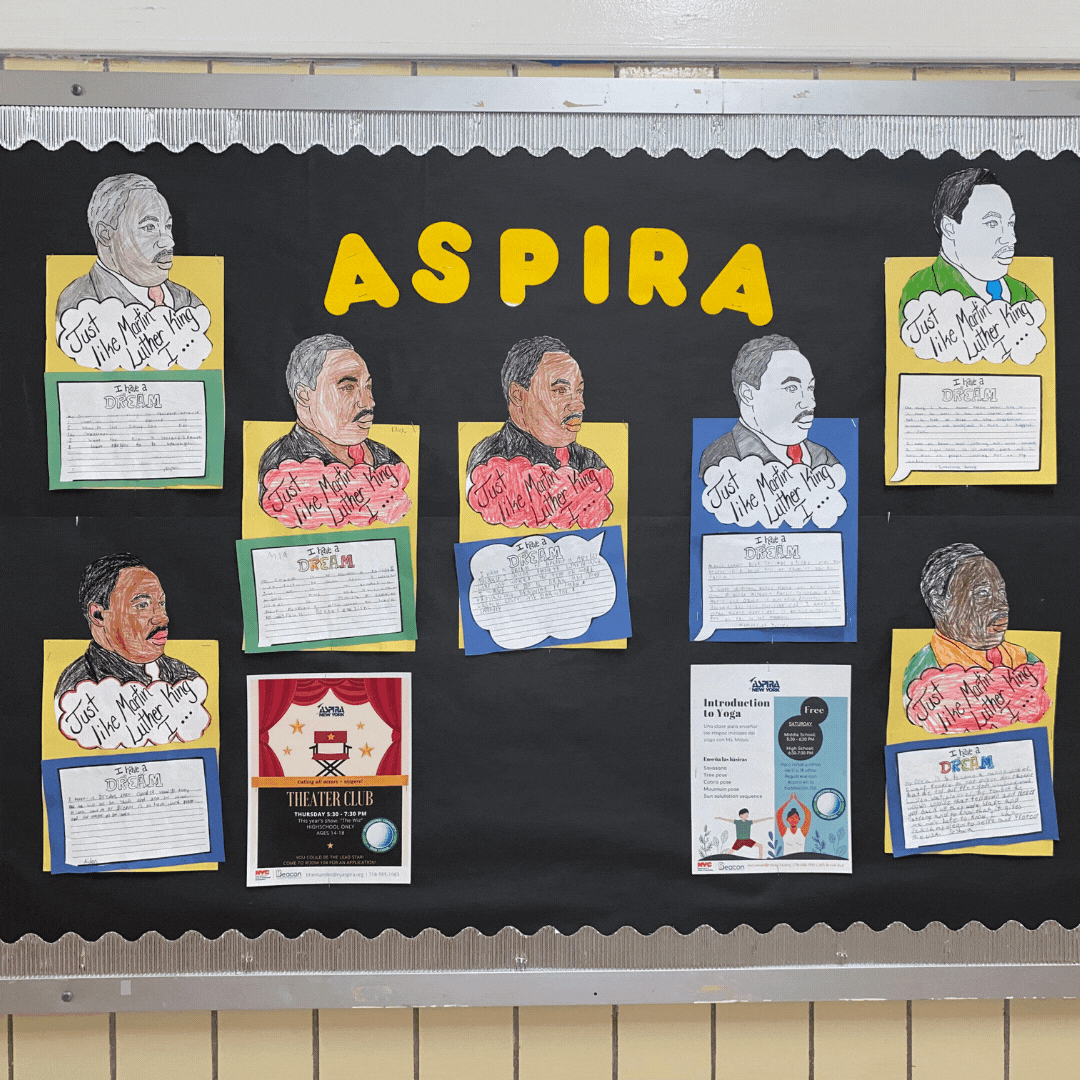 P.S./I.S. 224


ASPIRA beacon students at P.S./I.S. 224 participated in a writing contest kicking off Black History Month.
To celebrate those who submitted work and those who did outstandingly well, school leaders awarded Certificates of Achievement to the students.


BRONX HIGH SCHOOL FOR MEDICAL SCIENCE


Our ASPIRA SONYC students at Bronx High School For Medical Science learned about notable figures in Black History like Rosa Parks & Malcolm X and analyzed how those individuals have had an impact on the course of history and present day.
PS 151K THE LYNDON B. JOHNSON SCHOOL
Our ASPIRA 21st Century Community Learning Centers K-5th graders at PS 151K The Lyndon B. Johnson School celebrated Black History Month with dance, music, art, and learning about the inventions, contributions, and history of African Americans.
Watch this fun movie clip of our ASPIRA students at PS 151K The Lyndon B. Johnson School participating in Black History Month activities.
PS 62 INOCENSIO CASANOVA
Our ASPIRA 21st Century Community Learning Centers K-5th grade students at P.S. 62 Inocensio Casanova explored African American historical figures like Garrett Morgan, George Washington Carver, Rosa Parks, and Martin Luther King. Keep reading to find out how they celebrated the many contributions of African Americans with these Black History Month activities.
Kindergarten students learned about Garrett Morgan, African-American businessman, community leader, and inventor, most famous for patenting the first traffic signal in the United States.
1st grade students learned about George Washington Carver & Martin Luther King. When they were done, they shared their completed mini biography and shared their own dreams with others.
2nd grade students learned about Rosa Parks and reflected on a time they were brave.
3rd grade students learned about accepting differences with each other, working together, and embracing diversity.
4th & 5th grade students recreated their own "I have a Dream" speech.